The new reality
Much about life has changed during the past two years and some shifts already happening were accelerated by recent events.
With many of us now either working from home permanently or only spending some days in the office, commuting has become less of a consideration when thinking about where to live. We have greater flexibility and are no longer tied to a certain location in order to be closer to the office, which opens up a wealth of opportunities for individuals in their lifestyle decisions. That shift in choice equally poses seismic challenges for those businesses which have historically represented an entire commercial ecosystem around the commuting worker.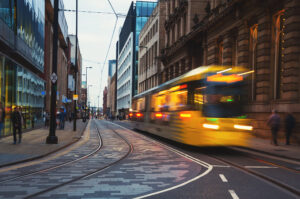 The Times recently published an article about the draw Manchester has on young people, as the average age in the centre of the city is just 24, unlike London, where it is 36. Yes, Manchester embraces cultures from all over the globe and offers a lot in terms of entertainment and nightlife, however, arguably the biggest selling point is housing affordability. To buy a property in London, 12.3 times the average annual gross salary is required, compared to 7.4 times the average salary in Greater Manchester. With more flexible working arrangements, this means that young people can get on the property ladder sooner than they can in the south while still living in a thriving area of the country. And Manchester is well-connected, should an office visit be required.
Manchester is of course only one example. People all over the country head into offices far less frequently and many businesses have rid themselves of office space altogether. Apart from the opportunities opening up in the employment world, there are also implications for the property market. The way commercial property is used is shifting and space no longer needed to house offices can be converted to residential property instead. We examined this more closely during a recent Navigator Forum, you can find the article here.
New communities being developed take into account these lifestyle changes and put a big emphasis on the experience. Quintain Living, for example, are building a 14-storey residential tower with community space on the roof, as well as office space which tenants can use free of charge just outside Wembley. Other property businesses, like Urban Splash, regenerate decaying industrial warehouses, mills and Victorian terraced houses. They focus on properties in the Manchester area and offer homes to buy or rent, as well as reinventing workspaces.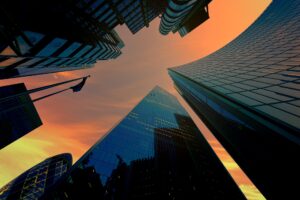 Not only the demand for commercial and residential property is changing, but also how space can be purchased. The internet is becoming a more and more important tool for many when looking for a new home, whether that is to buy or rent. Portals and apps that allow us to create alerts meaning we receive an email if a home within the right area and price range comes up maybe take away some of the stress of finding a new place. Online viewings are widely available now and mean we don't even have to travel to the location of the property to take at least an initial look at it.
We are witnessing then a dramatic change in expectations in how we live, work and travel, and the implications for businesses within that "commuter ecosystem" will need to adapt rapidly to fill the gap with creative alternative value propositions:
How to keep cities attractive?
As businesses move their headquarters out of England's capital and the north becomes more and more popular, will London have to change its tactics in order not to lose out?
How will traditional office space evolve, and what will be the new value proposition to tenants?
We have already witnessed the dramatic growth in space as a service from providers like WeWork. How will the traditional office landlords evolve to respond to the demand for greater flexibility, and potentially reduced demand?
How to evolve residential property to make it multi-functional?
We are already seeing some property development evolve to capture that blended requirement as referenced in the Wembley development. How can we design a home where Zoom and Microsoft Teams become less clunky and more realistic as a regular alternative to face-to-face meetings?
How will public transport fill the gap to remain relevant and convenient?
We already see the Rail Industry adapting its value proposition to offer more flexible alternatives to the season ticket. What more does it need to do to fill a substantial gap without being forced to reduce its service offering?
We have rarely witnessed such a dramatic shift in customer expectations and behaviour. It's time to get creative across a whole raft of previously stable industries which now need to react.
Get in touch if you need support in understanding those challenges, and future proofing your value proposition!