Putting car manufacturers in the driver's seat
A potential change in legislation around self-driving vehicles could bring dramatic opportunities to open up mobility to new audiences
Over the past decade, so-called living products, i.e., products that are never complete and always evolving, have become part of our lives more and more. A large percentage of the population owns smartphones, many of us also have smart speakers and televisions in our homes. Even our cars are becoming more advanced each year.
The constant evolution of technology simplifies many aspects of our daily lives. We no longer need to keep calendars to jot down reminders or appointments, we just ask our smart speaker to set an alert for the relevant date and time. Many cars offer assisted driving. We can switch on cruise control or let the car do the parking at the push of a button, no need to worry about getting too close to the other cars.
During a recent Navigator Forum we discussed how businesses can navigate a world that even AI can't predict.We covered different aspects during the webinar,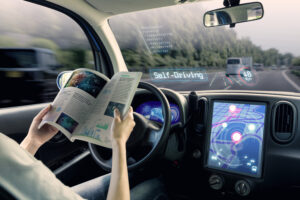 one of them being the introduction of driverless cars and the changes and opportunities they might bring, from less individual vehicle ownership to relieving congestion and opening up space freed up from overburdened car parks.
We were also interested in the challenges that would be inevitable. Would there be a need to get a driving licence for a holiday in a country where there might be no automated infrastructure? Another important point is the consideration of who is responsible in case something goes wrong. With conventional cars, accidents can most often be traced back to human error. If a vehicle is fully automated pinpointing the cause of an accident and who should be responsible might not be as simple.
The Times recently published an article focusing on this particular aspect. Law commissioners called for parliament to regulate vehicles that can drive themselves and pass responsibility for any accidents to manufacturers, arguing that the person in the driver's seat would no longer be in charge of how the car drives.
Other responsibilities like putting in place the right insurance could still lie with the user, depending on the functionality the particular vehicle offers. If the car is fully automated, with no actual driver's seat, the user would be classed as a passenger, rather than a driver or operator.
With all the advantages automated vehicles offer, like higher levels of road safety, what are the potential implications for users or customers? Will it open up opportunities to the part of the population who might not currently be able to drive a car?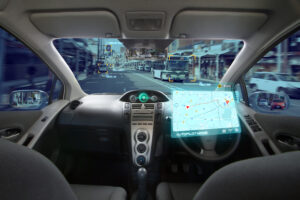 Consider the implications and opportunities in this change in legislation for physically or visually challenged people. Consider the elderly seeking greater levels of mobility and social contact!
As overcrowded cities strive to reduce congestion and pollution, and open up greater access to public transport, there is a clear need to find creative solutions to fill the gap in first & last mile journeys often currently filled by cars.
Whatever the opportunities and possibilities created by such groundbreaking legislation, the question will remain how manufacturers respond to this potential change?
If you want to join the conversation on how we will live, work & travel in our rapidly evolving world, then please get in touch. Give us a call on +44 (0) 1483 209 586 if you want to chat to us.