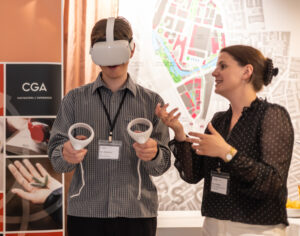 Is empathy the greatest disruptor for modern businesses?
In 2021, Rose Ayling-Ellis left Strictly Come Dancing viewers breathless when she danced to Symphony by Clean Bandit. A brief interlude where the music stopped and the dancing continued achieved a moment of reimagined inclusivity rooted in empathy. It gave viewers a different perspective on the performance and opened a conversation about how the world is experienced by anyone with a hearing impairment.
This is the basis of our new Empathy Lab service, and the topic of conversation at our most recent, and first in-person, Navigator Forum, The Value of Empathy, hosted at Argent LLP's fantastic head office in King's Cross, London.
How do you start to transform an industry to be more customer focused?
At CGA we have always been focused on the importance of the customer experience, but in recent years, escalating since the pandemic, we have seen a statistical increase in customers feeling frustrated and impatient (hovering just below 40%), while the opposite end of the spectrum is defined, not by happiness, but by gratitude. We can all empathise with the feeling of being on the phone, trying to get through to a call centre or being sent around the houses when trying to find a solution to a problem and the enormous relief when someone actually listens and helps.
This understanding of perspective, experience and emotion – in short, empathy – is at the heart of what it is to be human, but it's often lost in the clatter of daily work/life and the strategy behind business targets. While empathy might seem to be mostly a moral imperative for businesses, in reality it's also a commercial necessity in a competitive environment that now hinges on relationships rather than transactions alone.
For example, McKinsey has reported that 70% of the customer's journey is based on how they feel they are being treated. Bain and Company said that a customer is four times more likely to switch to a competitor if the problem they're having is service-based. Another stat shows that 78% of customers have backed out of a purchase due to a poor customer experience.
As a result, we created our Empathy Lab, which was piloted in May. The Empathy Lab sees us help clients and their teams better understand how their clients, and other people in general, experience the world. In part, we do this through the use of pioneering immersive technology as well as other interactive processes. This has included working with the RNIB, Chiltern Railways and CrossCountry Railways, which set the tone for The Value of Empathy Navigator Forum this month.
A moral imperative and a competitive advantage
Empathy is the essence of building relationships, understanding and uncovering your customer needs, leadership and social responsibility. This was the basis of our Navigator Forum, which included presentations from Robert Evans, Managing Partner at Argent as well as Robin Spinks, Head of Inclusive design at RNIB, and our own CEO, Chris Garthwaite. The evening was rounded off with a panel Q&A that also included Richard Allan, Managing Director at Chiltern Railways, Lorraine Breece-Price, COO at Dudley Building Society and Tom Alder, CMO at International Personal Finance.
Harper Lee's all-wise Atticus Finch famously said: "You never really understand a person until you consider things from his point of view… until you climb in his skin and walk around in it." The ability to see the other person's perspective is a powerful tool. Walking in the customer's shoes for a brief time helps us to respond with less judgement and animosity and more maturity, objectivity, fairness and equability. It neutralises negativity, and if we want to get down to brass tacks, it's not just an ethical pillar but a competitive advantage when your people authentically listen to better understand differing perspectives. This is where Chris began the evening's discussion.
A different perspective
Technology allows us to explore the world in an immersive and different way, gaining an insight into different peoples' experiences and improving empathy, whether it's creating a tremor that simulates Parkinson's or emulating vision impairment.
The mind altering power of seeing the world through someone else's eyes was illustrated quite literally by Robin, who delivered an insightful presentation on the work of the RNIB in creating a better world for people with impaired vision. He included a sneak preview of the charity's soon-to-launch Eyeware2 AR simulation tool, a VR resource which shows what different situations might appear like (such as, walking through a train station), with different types of vision impairment. He rightly noted: "You can't simulate disability but you can use simulation to demonstrate some of the practical impacts. There's a big emotional component that would be impossible to simulate."
Robin spoke eloquently on the deeply human experience of vision loss, noting that in the UK two million people live their lives with a severe sight problem, and everyday 250 people are told there's nothing more that can be done to help their fading sight.
He said: "Imagine a colleague goes off at the weekend and when they come in on Monday and are withdrawn they tell you they were at an ophthalmology appointment and it's not good news. That's the reality for a lot of people – they go to an appointment and are told there's nothing more that can be done; they're going to lose their sight. Imagine the anxieties they might have about their house, their job, their relationship etc. We want to make sure that when that happens there's a point of support straight away."
He noted the big brands and initiatives that have recognised this issue of empathy and the need to build inclusivity into their products and customer experiences, taking advantage of technology to help them achieve that. For example, he mentioned the role of Generative AI, Chat GPT and Bard, how 5G will radically change the way that we think about connectivity and how machine learning and computer vision are making greater independence more possible. He used the Apple iOS17 Accessibility announcement as an example, as well as the use of LIDAR (laser imaging, detection, and ranging) AND BIDI codes – to name a few.
Meeting human and customer needs
The panel discussion took the topic of human needs and empathy into a broader space, showcasing how a shift in perspective runs through all levels of business.
Having experienced our Empathy Lab, including VR for vision impairment, with his team in the railway service, Richard Allan said that there had been sceptics amongst his colleagues, but following the experience they were much more engaged with their job roles and their customers.
Lorraine from the Dudley Building Society spoke about their brand values, and how research into understanding the regional challenges of customers and employees along with the cost of living crisis had led them to set up an anonymous fund for team members who were struggling financially.
Drawing the direct line between empathy and commercial success, Tom from International Personal Finance noted how empathy is now a differentiating factor for businesses. His sage perspective noted that, given the choice, customers will opt for the best experience, and with lots of similar, excellent products and services on the market, focusing on a "better overall experience" will be the thing that provides the competitive edge.
What empathy, in all aspects of work and life, boils down to, is listening. The challenge with it is that it's intangible, which makes it a difficult thing to demonstrate and roll out as part of your brand values and customer experience strategy. Perhaps summing up both the challenge and the solution, Robin said: "I think you can learn empathy. We want people to talk to people as humans. Go out, challenge your perceptions, meet new people with different impairments and if you continue that exposure over time you become someone who understands empathy more."
Thank you to everyone who attended, and in particular to Argent and the team for hosting the event. If you would like to find out more about our Empathy Lab, please sign up for our newsletter for the latest updates. Or if you would like to find out more about our next Navigator Forum, please get in touch.
…
Images- John Sturrock
What it is to be human: https://www.cgaexperience.com/2021/03/09/are-your-customers-missing-the-human-connection/
McKinsey: https://www.industryanalysts.com/12417_greatamerica/
Bain and Company: https://www.bain.com/insights/topics/loyalty
Another stat shows that: ww2.glance.net/wp-content/uploads/2015/07/Counting-the-customer_-Glance_eBook-4.pdf
please get in touch: https://www.cgaexperience.com/contact-us/