A Graphic Roadmap to support your Customer Experience (CX) Strategy!
Where are you on the CX Maturity Curve?
As expert CX practitioners, we find it helpful to look at a maturity curve to establish where client organisations or brands currently sit in their characteristics, culture and current focus.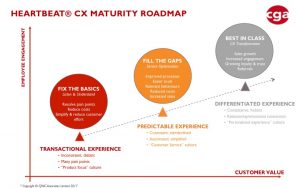 The Heartbeat® CX Maturity roadmap is a straightforward, visual model to help shape the "point of departure" of an organization or brand wishing to begin or refresh their journey towards customer centricity and best-in-class behaviours. It also provides a framework for strategic debate on the CX vision. Get an in-depth breakdown of each maturity stage here:
Transactional Experience:
Typical of organisations which have historically been driven by focus on product or operations, and who recognize the need to shift the focus to customers. In setting their short term CX goals, our client Michelin, for example, was clear that just fixing the basics in service provision was an absolute must before attempting to shift to the next level towards overall gap filling.
Predictable Experience:
Delivering customer value consistently, and across all channels is a substantial challenge for so many sectors. The pace of change in customer expectations has never been more demanding. Not surprising therefore that digital transformation, service optimization and productivity gains represent the driving forces in arriving at this level of CX maturity. Understanding the gaps from the customer's perspective is the starting point to reach this level. Heartbeat Customer Journey mapping is the methodology we employ to analyse the gaps, prioritise the pain points and map the opportunities to optimize service.
Differentiated Experience:
The challenge of commoditization has already driven many brands to see customer experience as a source of sustainable differentiation. Brands are increasingly judged on their actions rather than their "advertising" promises. Translating brand values and behaviours into consistent delivered and differentiated experiences is the domain of Best-In-Class. Our client Renault embarked on such a journey with us 3 years ago, and are reaping the rewards in sales growth and improved customer satisfaction (Case Study) Needless to say, the further up the curve you aim, the greater the requirement for inspired employees to deliver such differentiation on a day-in-day-out basis.
Understanding the "Point of Departure" is the start point. Whether that entails simply beginning to "Listen & Understand" your customers through a  Voice of the Customer (VOC) programme and social media listening, or to run a deep dive on mapping their journey from their perspective, it's critical that you have a robust diagnosis which helps to create a baseline. Once you have this, you can then begin to plot your roadmap, consider your ambitions and define your strategy for getting there.
The search for elusive organic growth
The customer knows that they now have alternatives, as disruptive competition becomes a reality for an increasing number of industries and sectors. Identifying sustainable organic growth is increasingly challenging for mature businesses, to the point that "Business as Usual" in thinking and behavior holds as much inherent risk as transformation. So many of the companies we engage with now adopt the position that they must either embrace customer centricity, or risk being left behind.
Defining a vision and strategy for customer experience management
So often we hear from companies who are new to the discipline of customer experience management that they recognize the need to become more customer centric in their decision making, but are not sure how to achieve this, how to measure progress, or indeed how to set realistic targets.
The good news is that there is plenty of empiric evidence to underpin the business benefits of putting customers at the heart of decision-making, and making customer experience a strategic priority. The challenge is to convert good management intentions into a roadmap which can withstand the scrutiny of ROI analysis and maintain momentum through performance measurement and achievable goals. The starting point is understanding your point of departure. Indeed, in our work as CX specialists, we frequently observe a significant gap between the internal company perspective on the customer journey and customer priorities, versus the reality of the gap between customer expectations and how they perceive current delivery.
Getting started is the easy part. If you would like to know more about the toolkit to define and deliver the roadmap we will be happy to talk that through with you.
Get in touch to talk to a consultant and get more information on how we can help your company!
Come and start your journey with us.